Romanian parliament protester jumps from balcony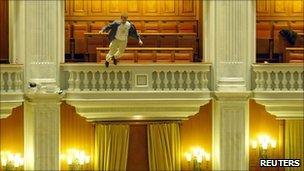 A man has been seriously injured after throwing himself from a balcony in the Romanian parliament in a protest over cuts in public spending.
It happened as parliament was preparing to debate a no-confidence vote tabled by the opposition.
The man, a public television employee, suffered severe facial fractures. His injuries were not life-threatening.
The session was briefly suspended, but the government went on to survive the vote after opposition MPs walked out.
A thud was heard in the chamber after the man, Adrian Sobaru, jumped from a balcony and hit the benches some seven metres below.
Romanian Prime Minister Emil Boc, who had been addressing the chamber at the time, rushed over to the injured man along with other lawmakers.
Mr Sobaru, a father of two in his forties, was wearing a white T-shirt with the words "You killed our children's future, you sold us".
Mr Boc called the incident "a tragedy that shocked me" and appealed for calm.
Parliament resumed an hour later, but this time without the presence of opposition MPs - who walked out after their request to reschedule the no-confidence motion was rejected.
Their absence meant the government survived the no-confidence vote - clearing the way for it to push ahead with painful economic reforms.
Correspondents say the incident reflects mounting popular discontent over the government austerity measures.
Romania's economy shrank by more than 7% in 2009 and it needed an IMF bail-out in order to meet its wage bill.
It has already cut public spending and axed thousands of public sector jobs as part of efforts to shore up its finances.
Now the government needs to implement new measures to qualify for the next instalment of the 20bn euro IMF loan.