Hungary media law 'may be changed' if problematic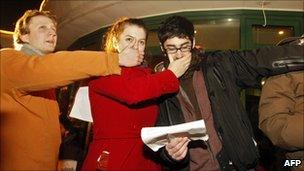 A controversial new media law in Hungary could be amended, a senior member of the governing party has said.
Janos Lazar said that if the law was applied "in a wrong way, or there are problems" parliament would change it.
He said the Fidesz party's aim was to "improve" the Hungarian media, and "not to wage a war" against it.
The opposition, foreign governments and media watchdogs have raised concerns about the law, which creates powers to monitor and fine the media.
It creates the National Media and Communications Authority to keep watch on private and public media outlets.
"If the (media authority) applies it in a wrong way, or there are problems, as a result of objections parliament will change this law, you should not have any doubts," Mr Lazar, who heads Fidesz's parliamentary group, was quoted as saying. The centre-right Fidesz party has a two-thirds majority in parliament.
In remarks on the Hungarian commercial television channel TV2, quoted by Reuters, Mr Lazar said "our aim is not to wage a war against the Hungarian press, as the conservative side has always lost that in the past 20 years".
He added that they wanted to "try to regulate issues which have not been regulated so far in order to improve... the media in Hungary".
The law, pending the signature of the president, is due to come into effect on 1 January.
The German Foreign Minister, Guido Westerwelle, called his Hungarian counterpart Janos Martonyi to discuss the law on Thursday, AFP news agency reported.
"In a friendly atmosphere, they discussed the possibilities for a change to the Hungarian media law," a German statement said.
Germany's Deputy Foreign Minister Werner Hoyer said: "It is a reason for serious concern if there's even the smallest suspicion that media freedom in a member state of the European Union is subject to control of its content."
"As incoming EU president, Hungary bears a special responsibility to represent Europe's values and interests in the world," he said, quoted by the Associated Press.
Hungary is due to take over the rotating presidency of the European Union next month.
Luxembourg Foreign Minister Jean Asselborn said on Wednesday that the plans "clearly violate the spirit and the letter of EU treaties".
Hungary's main opposition Socialist Party has urged President Pal Schmitt not to sign the new law and instead refer it to the constitutional court.
Independent watchdogs - the OSCE and US-based Freedom House - have also voiced concerns.