Freezing rain shuts Moscow's airport and cuts power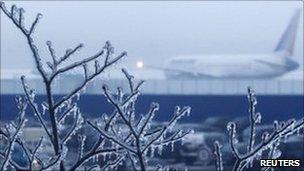 Freezing rain has badly disrupted air traffic at Moscow's airports and left more than 400,000 people in and around Russia's capital without electricity.
Rain that immediately turned into ice on the ground caused power failures, shutting Domodedovo airport for hours and stranding thousands of people. The power was later restored.
Dozens of flights to and from other Moscow airports were cancelled.
Bad weather also turned many streets in the city into ice rinks.
Domodedovo airport remained shut for more than 10 hours on Sunday, after the power supply was cut off, officials said.
The outage was caused by tree branches touching power lines loaded down with ice.
The power was only restored late in the evening.
More than 60 flights were also cancelled at other Moscow airports because of bad weather.
In the city itself, freezing rain damaged power supplies to trams and trolley buses and caused huge traffic jams.
Health officials urged residents not to risk walking on the icy streets and stay indoors.
At an emergency meeting, Russian Prime Minister Vladimir Putin ordered ministers to rectify the situation as soon as possible.
Related Internet Links
The BBC is not responsible for the content of external sites.