Croatian ex-PM Ivo Sanader to stay in Austrian custody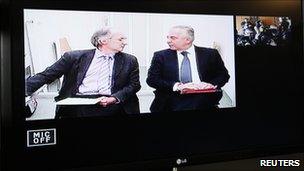 A judge has ruled that Croatian former Prime Minister Ivo Sanader will remain in custody in Austria for another month while awaiting extradition.
Mr Sanader, now an independent MP, was arrested earlier this month on an Austrian motorway after Croatia issued an arrest warrant.
He had left the country as parliament moved to strip him of his immunity from prosecution in a corruption inquiry.
Mr Sanader, 57, denies the accusations, saying they are politically motivated.
The judge in Salzburg where Mr Sanader is in jail said he should remain there because of the risk that he might flee.
According to the Croatian arrest warrant, Mr Sanader is suspected of conspiring to commit crime and abuse of office.
The inquiry is believed to relate to allegations involving the creation of slush funds for the ruling Croatian Democratic Union (HDZ).
Prime minister from 2003, he resigned unexpectedly in July 2009 and was expelled in January this year by the party.
Croatia has been trying to tackle corruption as it seeks to finalise membership of the European Union by 2012. But the HDZ has been dogged by scandal and two former ministers have recently been convicted of corruption.
Mr Sanader's next custody hearing is due to take place on 27 January although a further extradition could be held earlier.
That process could be delayed by investigations into Mr Sanader's activities in Austria itself.
He gave evidence last week via video link to an Austrian inquiry into the failure of Hypo Alpe Adria bank from which he denies receiving illicit payments.
Mr Sanader's lawyer, Werner Suppan, has complained that documents have been taken from his client's wife and daughters in Croatia and he says they have also been occasionally denied access to their house.
Related Internet Links
The BBC is not responsible for the content of external sites.