Train across France completes 'hell on wheels' journey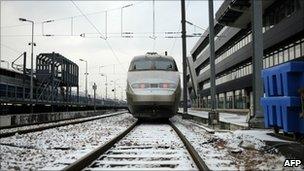 A night train on France's famed SNCF rail network arrived 13 hours late after a series of unfortunate events delayed its journey across the country.
The fate of the 4295 train and its 600 passengers, travelling from Strasbourg in the north-east to the Spanish border at Portbou, made national headlines.
Bad weather, a late driver, a bad engine, a blockage on the line and disruptive drunks all played a part.
It was "hell on wheels", one traveller tweeted as the SNCF offered refunds.
Leaving Strasbourg on the German border at 2130 (2030 GMT) on Sunday, the 4295 had been scheduled to arrive in Portbou on the border with Spain at 0830 on Monday.
Part of the train, which was to split in Lyon, had been destined for Nice on the French Riviera.
However, when the train reached Belfort, just 120km (75m) out of Strasbourg, it was decided to replace the driver on health and safety grounds, as the individual had been working for three days.
A replacement had to be brought up from Lyon and did not arrive until about 0600, the SNCF said.
Passengers' attempts to sleep through the stop-over at Belfort were not helped when "two or three" got drunk and began causing trouble. They were taken off the train by police.
After a further delay caused by a broken-down train on the line, the 4295's own engine failed and three hours were spent at Tournus, awaiting a replacement.
It finally reached Lyon at 1700, where the passengers going south-west were transferred to another train, while those travelling in the Nice direction remained aboard.
A few dozen of the latter arrived in Perpignan, the train's final destination, just before 2200.
"We are very relieved to have arrived," said one passenger, Solange, who was with her partner Vincent and their two children aged four and one.
"We feel like we've been shipwrecked."
Those travelling across the border to the Spanish village of Portbou were given taxis, according to Le Monde newspaper.
Regretting the "serious but isolated" incident involving its night train, the SNCF offered travellers both a refund of their fares and a free return ticket.
Related Internet Links
The BBC is not responsible for the content of external sites.