Danes trapped by snow on island of Bornholm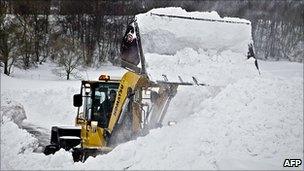 Deep snowdrifts have trapped thousands of people in their homes on the Danish island of Bornholm, but extra snowploughs have now arrived by ferry.
There is so much snow that islanders have started dumping it in the sea - a practice normally forbidden for environmental reasons.
Islanders contacted by the BBC said needy people, especially the elderly, were being helped by neighbours bringing them food and medicines.
Snow has been cleared from major roads.
But police have told people to avoid using the roads unless really necessary, because the gap cleared is only wide enough for one vehicle at a time.
The small island, with a population of 42,154, lies in the Baltic Sea between Germany and Sweden.
A helicopter flown in by the Danish air force is helping the relief effort and big snowploughs are now arriving daily by ferry from elsewhere in Denmark.
Gert Johansen, a receptionist at the Bornholm police headquarters, told the BBC that some homes were buried in snow, which was generally about 1.5m (5ft) deep, but in places reached a depth of 6m (20ft).
Norway and Sweden have offered to help, but Mr Johansen said "it seems like we have enough equipment here now".
About 30 rescuers have arrived from the Danish military and private engineering firms, he said.
In one case a woman trekked 7km (4.3 miles) on skis to help a pregnant woman whose snow-bound home could not be reached by a midwife, Gertrud Boesen at the Bornholm information centre in Roenne told the BBC. A rescue vehicle managed to get the pregnant woman to hospital in time.
Elsewhere the snow prevented one family from burying a relative who died before Christmas, Ms Boesen said.
An emergency centre with a helpline is being used to co-ordinate deliveries to people running short of food, petrol, medicine and other necessities.
"It's fantastic how people are helping each other," Ms Boesen said.
"The snow has stopped falling and the sun is out, so it looks very beautiful now. We have food in the towns and the ferry comes every day. The only problem is that people can't leave their homes."
Mr Johansen said he expected life to get back to normal in about a week's time.
The small airport was closed for two days, but has now reopened.
Up to 300 people who arrived on Bornholm to visit relatives at Christmas had to shelter at a sports hall and a military base because of the snow, Ms Boesen said. Some visitors also spent Christmas on board the ferry as the weather was so bad.
"Bornholm has never before had snow like this - in such a short time," said Mr Johansen.
Related Internet Links
The BBC is not responsible for the content of external sites.