Igor Luksic appointed Montenegro prime minister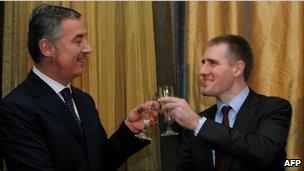 Montenegro's parliament has endorsed Igor Luksic as the country's new prime minister.
Mr Luksic, 34, succeeds Milo Djukanovic, who resigned last week having become the longest-serving leader in the Balkans.
The new prime minister has twice been deputy prime minister and minister of finance four times.
This month Montenegro achieved candidate status in its bid to join the EU - a key step towards accession.
"All of us, the government, parliament, local authorities and the society must demonstrate determination and readiness to use knowledge and capabilities... toward full European integration," Mr Luksic told MPs during the session.
His key priority, he said, would be to "implement measures for Montenegro to open accession talks with the European Union".
And he vowed to "stay on the course of structural reforms aimed at improving healthcare, education and social welfare".
Mr Djukanovic, 48, spearheaded Montenegro's successful campaign for independence from Serbia in 2006.
Mr Djukanovic, who first served as prime minister in 1991 and was later president, once faced charges in Italy for allegedly being part of a Balkan cigarette smuggling ring in the 1990s, but said he was leaving office with a clean record.
In May 2006 some 55% of the population voted in a referendum to end Montenegro's union with Serbia, which had been created only three years earlier from the remnants of Yugoslavia.
Related Internet Links
The BBC is not responsible for the content of external sites.