Athens hit by second bomb blast in 24 hours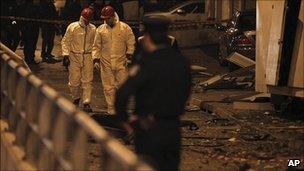 A bomb has exploded outside a closed night club in Athens, causing serious damage but no injuries.
Greek police suspect it was an act of intimidation by a criminal gang.
The blast happened nearly 24 hours after a bomb hidden on a parked motorbike damaged a courthouse and other buildings and wrecked cars in the Greek capital.
Anarchists were blamed for Thursday's blast. Nobody was hurt as a warning by phone had prompted an evacuation.
Separately, a small bomb broke windows at the Greek embassy in the Argentine capital Buenos Aires on Thursday. Again nobody was hurt.
On Monday Italian police defused a parcel bomb sent to the Greek embassy in Rome.
Two other embassies in Rome received similar parcel bombs just before Christmas. Those packages exploded, injuring two employees. An anarchist group in Italy claimed responsibility.