Ten ships, 600 crew trapped in frozen Sea of Okhotsk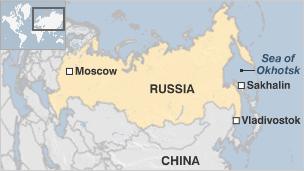 Rescue efforts are under way to evacuate more than 600 crew on 10 ships trapped in ice in the Sea of Okhotsk.
The ice is up to 30cm (12 inches) thick in some places, according to the Russian news agency Itar-Tass.
Signals are reported to have been received from a fishing boat and a research vessel which are in the greatest distress, stuck in the ice about 12 miles (19km) from the coast.
The sea rescue centre says three tugboats have been dispatched.
One of the tugboats is expected to reach the edge of the ice on Friday evening, and the others could be there by Sunday.
The temperature in the area is -22C, according to Itar-Tass, and forecasts suggest it will fall even lower.