Germany 'stronger' after economic crisis - Merkel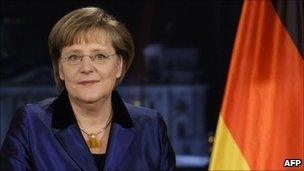 The German people have emerged stronger from Europe's economic crisis, Chancellor Angela Merkel has said in her annual new year's message.
The country now enjoys its lowest unemployment rate since reunification 20 years ago despite the worst crisis in more than 60 years, she said.
Mrs Merkel tied prosperity to the euro, saying the EU's biggest economy was committed to the single currency.
She was speaking in a pre-recorded address due to be televised nationally.
Despite concerns about high debt levels in the eurozone, the German economy has been driving the region's economic recovery.
The German economy grew by 0.7% between July and September compared with a eurozone average of 0.4%.
German unemployment, which had been approaching 11% as recently as 2005, was below 7% in October, according to the European Commission.
The average unemployment rate for the EU as a whole in October was close to 10%.
The new year sees important regional elections for Germany, the results of which could make life difficult for Mrs Merkel's government, the BBC's Stephen Evans reports from Berlin.
Mrs Merkel sounded like she was making the case to voters not to punish her party either over the economy at home or the eurozone bail-outs abroad, our correspondent says.
In doing so, she seemed to be recognising the scale of the discontent, he adds.
"In spite of all economic worries, it turned out to be a good year for Germany," she said.
"And all of us can be happy about one thing - never have more people had work in reunited Germany than today...
"We achieved what we planned to do. We even emerged from the crisis strengthened. This is above all because of your work, dear citizens."
Mindful of many Germans' nostalgia for the mark, Mrs Merkel said: "The euro is much more than a currency...
"A united Europe is the guarantor for our peace and freedom. The euro forms the foundation of our prosperity.
"Germany needs Europe, and our common currency, for our own well-being and also in order to overcome big challenges worldwide."
Related Internet Links
The BBC is not responsible for the content of external sites.