US praises Ukraine for disposing of enriched uranium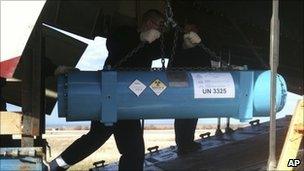 Ukraine has been praised by US President Barack Obama after more of its highly enriched uranium was shipped to Russia for disposal.
Enough of the substance to build two atomic bombs was removed this week in an operation involving five flights from three Ukrainian cities.
Some 50kg (110lb) of the fuel was loaded into 21 special casks.
Ukraine agreed to get rid of the uranium at a nuclear security summit in Washington in April.
In return, the US is providing low-enriched uranium that can be used for Ukraine's research reactors, as well as building a "neutron source facility" nuclear research project for the country.
Russia will blend the Ukrainian uranium down, making it useless for bomb-making.
"These actions represent continued Ukrainian leadership in making sure that nuclear weapons never fall into the hands of a terrorist, and working toward a world without nuclear weapons," Mr Obama said in a statement.
A slightly larger amount of spent uranium was removed from Ukraine by rail in May and the US says that remaining material is on track to be removed by a deadline of April 2012.
Related Internet Links
The BBC is not responsible for the content of external sites.