Russia grounds all Tu-154Bs after fatal fire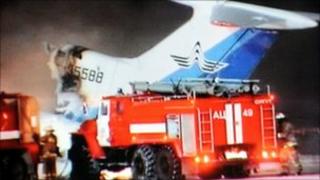 Russia's airlines must ground their Tu-154B planes, after a fire in Siberia which killed three people, the country's transport watchdog says.
At least 43 were injured when the plane, carrying 124 people, burst into flames before take-off from Surgut.
Russia's transport safety regulator said the ban would remain in place until the cause of the disaster had been established.
The "black box" voice and data recorders have been recovered.
The plane exploded in a fireball on Saturday.
The Tu-154B is one version of the Tu-154 dates from the Soviet era, and is used extensively on domestic air routes in Russia and the former Soviet Union.
There are 14 Tu-154Bs still in service in Russia, according to the RIA Novosti news agency.
Powerful blast
The Kolavia plane was taxiing for a flight to Moscow, when a fire started in one of its engines, an emergency services spokesman said.
The fire then caused a powerful blast which destroyed the plane and caused flames across an area of 100 square metres, he said.
Most of the passengers were evacuated before the explosion.
"There was a thick, black smoke and people started to panic. They were literally stepping on each other's heads," said Sergei Grigoriyev, a singer with the band Na-Na who were on board.
"I saw my life flash before me," he said, according to Itar-Tass news agency.
Fellow band member Vladimir Politov said the group had escaped out an emergency exit over the wing and were all unharmed.
The Tu-154 entered service in the 1970s but a series of crashes triggered concerns over its safety record.
Russia's national carrier airline Aeroflot took all its remaining 23 Tu-154 aircraft out of service in January 2010.
Polish President Lech Kaczynski was killed last year when a Polish Airforce Tu-154 crashed in western Russia.