Russia opposition leader Nemtsov jailed for 15 days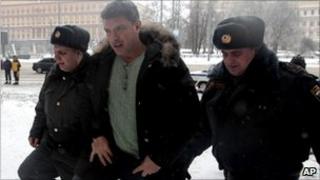 A prominent Russian opposition leader has been sentenced to 15 days in jail after taking part in a demonstration on New Year's Eve.
Boris Nemtsov, a former deputy prime minister, was punished for failing to follow police instruction, Ria Novosti news agency reported.
Mr Nemtsov was one of more than 120 protesters arrested at rallies in Moscow and St Petersburg.
The protests are held monthly to assert the right to freedom of assembly.
Police said Mr Nemtsov was arrested for attempting to break through police lines while demonstrating at a central Moscow square.
He was detained after leaving an authorised protest on a corner of the square and police said he and others were heading for another unauthorised demonstration.
Police in Moscow detained 68 people, while more than 50 were arrested at the St Petersburg demonstration, which did not have a permit.
'Biased'
Mr Nemtsov condemned the sentence, saying the judge was "completely biased" and that the authorities were trying to intimidate the opposition, Ekho Moskvy radio reported.
He also claimed the court refused to allow police and TV video recordings from the scene to be used as evidence.
Police also sentenced Eduard Limonov, an opposition writer and leader of the radical National Bolshevik Party, after arresting him near his Moscow home about an hour before he was to hold an unsanctioned rally.
He was handed 15 days of imprisonment for insulting police during his detention, Ria Novosti reported a court spokesperson as saying.
Protesters at the Moscow rally had demanded that Prime Minister Vladimir Putin stand down and called for the release of former tycoon Mikhail Khodorkovsky, an outspoken critic of the Kremlin.
The rallies take place regularly on the 31st day of the month to highlight Article 31 of the Russian constitution, which protects the right to freedom of assembly.