Moscow region threatened by more power chaos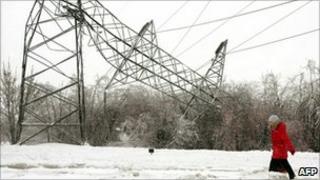 Wintry weather in Russia has caused more power blackouts in the Moscow region, threatening further disruption to its busiest airport, Domodedovo.
The airport suffered serious disruption last week, with hundreds of flights cancelled and 8,000 people stranded.
Although power was restored on Saturday, heavy snow and gales have brought power cuts to dozens of nearby villages, according to Ria news agency.
A special emergency unit has been sent to the airport in case the power fails.
On Sunday Domodedovo was briefly forced to rely on a backup electricity substation, but the airport authorities say they do not expect a repeat of the problems of recent days.
"The airport has and is continuing to operate according to schedule," a spokeswoman told Interfax news agency on Monday.
More than 5,000 people are reported to be without power in the Tver region north-west of Moscow because of heavy snow.
Hundreds of flights were cancelled last week at Moscow's two international airports, Domodedovo and Sheremetyevo, when freezing rain showers brought down trees and power lines.
Russian Prime Minister Vladimir Putin was shown on television castigating government officials, ordering cabinet ministers and regional governors to put the New Year holiday on hold until the problems were addressed.