Latvian property scheme brings investors and protests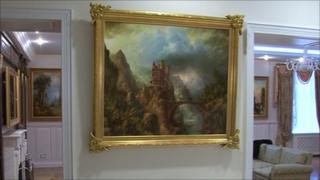 Latvia has come up with an unusual way of attracting foreign investment: property buyers can get European Union residency rights thrown in as an added bonus. The scheme is having an economic impact, but it is controversial.
The entrance hall of one flat is an 80 sq m (860 sq ft) ballroom. The sitting room of another has enough gilt to satisfy the glitziest of tastes, while the gold-encrusted lobby looks like something from the Hermitage in St Petersburg.
A fitting comparison that is often mentioned, the building's owner Kristaps Kristopans tells me. For almost all of the buyers of these flats are Russian - attracted, in part, by Latvia's offer of EU residency rights for property buyers.
Half of the buyers in this development have applied for residency. And since the law was introduced in July, it has already given the property market a boost.
"In essence the whole initiative restarted the real estate market in Latvia," Mr Kristopans explained as he showed off the property.
"One year ago it was completely dead. No transactions. Nothing. And now a lot has changed. Sales are picking up nicely."
The law means that non-EU citizens who buy a property worth at least 70,000 euros ($93,000; £60,000), or invest in a business, can get EU residency rights.
It does not enable investors to work in the rest of Europe. But it does mean they can move freely within the 25 countries that make up the EU's Schengen area.
Objections
Not everyone is so happy with the initiative. Members of Latvia's nationalist parties have protested by singing the national anthem on the steps of parliament.
They fear that attracting rich foreign buyers simply raises prices - making housing unaffordable for Latvians.
"Our government is trying to sell our country. They are not thinking of ways how to get Latvians back," said Hardis Paradnieks, one of the protesters. "If this continues, most of the country will belong to other people."
During the 20th century, Latvia was occupied by the Soviet Union. So many Latvians object to their government providing incentives for Russians to buy Latvian assets.
And some, such as Roberts Zile - a Latvian member of the European Parliament - believe that an influx of Russian investment will increase Moscow's influence in the region.
Mr Zile also argues that the law could be abused by criminals, who could win the right to move freely within the European Union.
"We are selling residency rights in the whole Schengen area, not just in Latvia," he said.
"They are more interested in other countries. They will not reside here. It could be more of a worry for other EU countries, not for Latvia."
Proof of success
The Latvian government, however, says all applicants are carefully vetted. And to prevent money laundering, cash payments for properties are not allowed.
According to Latvia's immigration authorities, more than 100 people have already applied after investing in a business or buying property, all of them from the former Soviet Union.
And out of the 66 who applied after buying property, some have already been knocked back - one for purchasing a property which does not actually exist.
Back at Mr Kristopans' property, meanwhile, a new wing is being built. He believes it is proof of the law's success.
Russian investment may be unpopular. But he is convinced it will help Latvia cope with the latest round of tough austerity measures.
"Now that the real estate taxes are going to be three times higher, who's going to pay those taxes? It's the foreign buyers going to pay them," Mr Kristopans said.
With 20th Century Soviet oppression still within living memory, it is easy to understand why an influx of Russian investment makes some Latvians feel uncomfortable.
But this time last year, there was virtually no building work at all going on in Riga. Today, there is.