New bid to break Belgian deadlock over government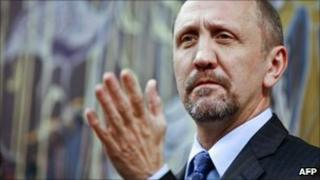 Belgium's politicians have until Wednesday to consider a new plan for forming a government after nearly seven months of deadlock.
Seven political parties have been wrangling over the details since the general election in June but finally there are signs of movement.
French-speaking Walloons want greater protection and more money for the region around the capital, Brussels.
The Flemish population is seeking more control over tax policy.
The parties have been given a blueprint by Johan Vande Lanotte, the latest mediator appointed by the king to find a compromise.
The question is whether any solution will be acceptable to both sides.
Rise of the regions
The political problems in Belgium are deep-seated and complex but travel around Brussels, Flanders or Wallonia and you might not notice anything wrong.
There is no anarchy on the streets, the buses run as they always did and Belgians themselves do not seem to be too worried about their lack of national leadership.
The caretaker government in place since the elections is widely thought to be doing quite a good job.
And the federal government is not the only authority that regulates the daily lives of Belgian citizens.
In recent decades, it is the regional governments that have become increasingly powerful, managing major policy areas such as education and culture.
But there are pressing reasons for some kind of solution.
At almost 100% of GDP, Belgium's public debt level is very high and a new government is needed to adopt a new budget that will take the necessary reforms, including pension reform to bring those levels down.
So, if the political parties fail to agree on a compromise this week, will the country fall into an even deeper crisis?
Split unlikely
Not necessarily. Not immediately, anyway. There could be further coalition talks, involving political parties that have not yet been part of the negotiations.
But these would take time and they could, of course, run into the sand.
There could also be new elections but this would undoubtedly send a bad signal to the outside world.
The question worrying away at some politicians is how the financial markets would take any further delay.
"Seeing the country running without a government for so long without experiencing any major problem might play on the side of those who want the end of the country," says Jean Faniel, researcher in political sciences at Crisp, a Brussels-based politics studies centre.
"They could say: 'You see, we don't really need a federal government, we're doing well without one.'"
The big winner of the last election was the New Flemish Alliance (NVA). They made the break-up of Belgium a central manifesto pledge.
But, although it is often talked about, in reality it is very unlikely that Belgium will split into two different countries, one Flemish- and one French-speaking.
Brussels will always be the main obstacle. It is a city of some one million people. It is in Flanders but more than 80% of its population speak French.
Economically and financially, the city is extremely important for both Flanders and Wallonia. Neither side will want to give it up.
It seems the Flemish Nationalists have pushed their dream of full independence to the background for the time being and are adopting what could be seen as a more pragmatic approach.
They want taxation and social security policy to be taken into the control of the regions - currently the responsibilities of the federal government.
And for their part the French-speaking minority want more money for Brussels and guarantees to defend the rights of French-speaking people in Flanders.
But if, step by step, powers are transferred from the centre to the regions, at what point does the federal government become an empty shell and Belgium become two nations in all but name?
That is the issue at stake in these negotiations.
Such a stretch without a government is a record for Belgium and it is still unclear how long this situation still has left to run.