Spanish smokers rebel against new year ban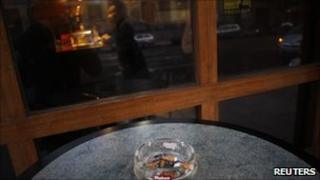 Spain's new year anti-smoking law has been encountering resistance, with hundreds of complaints by the public that it is being flouted.
The owner of a bowling alley in the western town of Montehermoso had 16 stitches in his forehead after a fight broke out on Sunday evening.
Three customers were also hurt in the fracas, which began when the owner asked a customer to stub out.
Elsewhere, police detained a man for lighting up on hospital premises.
In the south of the country, one restaurant is not trying to hide its rebellion.
A large printed sign in the window informs customers that Asador Guadalmina, in Marbella, is deliberately flouting the ban - making it a last refuge for smokers.
"We inform you that as a private business we are making use of our rights and that law will not be applied in our establishment," the poster reads.
It goes on to accuse the Socialist government of introducing the ban as a "smoke screen to cover seven years of massive destruction in Spain".
The law outlawing smoking in enclosed public spaces came into effect on Sunday.
The next day, defiant tobacco-lovers flocked to the Guadalmina restaurant and tapas bar. One local British resident described it as "full to overflowing", and far smokier than usual.
Tight restrictions
"Nearly everyone there was smoking - and not only cigarettes but cigars, which are not normally permitted," he told the BBC.
Critics of Spain's new law complain it is the strictest in Europe, not only opting for a total tobacco ban in bars and restaurants, but also prohibiting lighting-up outside schools and hospitals and close to children's playgrounds.
But Spanish Health Minister Leire Pajin said the ban was being observed "with total normality, as expected", and urged Spaniards to report anyone they saw breaking the new rules, to ensure compliance.
A consumer group known as Facua recorded more than 800 such complaints in the first two days. The majority came from Andalucia, home province of the Guadalmina bar and grill.
Its owner, a non-smoker himself, has called on other proprietors to follow suit and ignore what he calls an "absurd and shameful" law.
"Tobacco is legal, it's on sale - even in places where it's illegal now to smoke it," Jose Eugenio Arias reasoned in an interview on Spain's Intereconomia TV.
"If it's harmful, which I don't doubt, then it should be banned from sale like cocaine and heroin or hash," he said, arguing that if that was not the case, he should be free to allow smoking in his restaurant.
Business worries
The government says it introduced the ban to protect passive smokers and deter young people from acquiring the habit.
Prime Minister Jose Luis Rodriguez Zapatero, who says he smokes "very little", told a Spanish radio station he hoped the ban would help him and others give up for good.
Already badly affected by the recession, owners of bars, cafes and restaurants are worried about a slump in sales.
But so far Jose Arias appears to be alone in flouting the law so publicly, despite a potential fine of between 600 (£515, $800) and 100,000 euros, depending on persistence.
Mr Arias declined to speak to the BBC but a member of staff confirmed that the poster announcing the restaurant's refusal to enforce the ban remained in the window - despite a visit by police - and customers inside were still smoking.