Four Dagestan 'militants' die in Russia police siege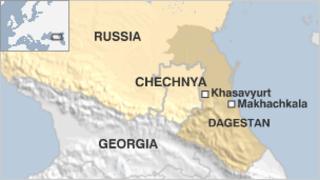 The second police siege in as many days in the North Caucasus republic of Dagestan has left four gunmen dead, Russian anti-terrorist officials say.
Three police officers were wounded when the gunmen tried to escape from a house in Khasavyurt where they were trapped on Wednesday morning.
Two of those killed were on a wanted list, suspected of murder and robbery.
On Tuesday, police said they had killed two gunmen in the capital, Makhachkala, after they refused to surrender.
In another development, a policeman was shot dead on Tuesday evening in Makhachkala.
Islamist separatists in Dagestan, which borders Chechnya, have been fighting the Moscow-backed authorities for years.
In Khasavyurt, the suspects rejected calls to surrender and tried to escape the police cordon, firing a grenade-launcher, Russia's National Anti-Terrorist Committee (NAK) told Russian media.
Three assault rifles, four pistols, several grenades, bomb-making components and a second grenade-launcher were found at the scene, it added.
Two assault rifles and several grenades were also found after the siege in Makhachkala, according to the NAK.