Dutch plan Afghan police mission after troops leave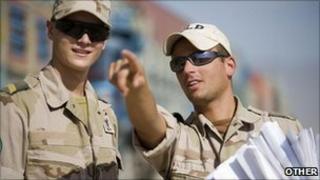 The Netherlands is to send a 545-strong police training force to Afghanistan, months after withdrawing combat troops.
The government said the mission, to begin mid-year, would train Afghan police and would not involve offensive military activities.
Nearly 2,000 soldiers were withdrawn last summer after the last Dutch government collapsed over the issue of renewing their mandate.
A smaller force remains, tasked with post-withdrawal logistics.
The new mission will involve 225 police trainers and 320 military support staff and is likely to last four years, the Dutch defence ministry said.
Four F-16 jets currently stationed in Afghanistan will be retained there for the new mission.
They will be stationed in the capital, Kabul, as well as the northern province of Kunduz.
The two parties in the minority government support the new mission but the radical Freedom Party of Geert Wilders, on which they rely for support in parliament, opposes it.
However, some opposition parties also back the mission, as long as the military personnel involved are not combat troops.
Twenty-four Dutch soldiers died during the previous deployment.