Eta ceasefire: Spain talks tough with weakening separatists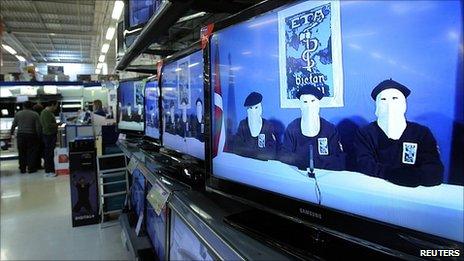 A day after Eta declared a "permanent" and "verifiable" ceasefire, the Spanish government has demonstrated that its own policy towards the militant Basque separatists has not changed.
The interior ministry announced the detention of two suspected Eta members in a joint operation between Spanish and French security forces, claiming an "important blow to Eta and its technical capacity".
Iraitz Gesalaga - who is suspected of developing computer encryption programmes for Eta - was detained in the early hours of Tuesday in the Basque region of southern France. His girlfriend, Itxaso Urtiaga, was arrested simultaneously by Spanish police across the border.
The ministry says there could be more arrests to come.
It is operations like this that have allowed the government to dismiss Eta's statement as insufficient.
The last targeted killing by Eta was in July 2009, and in the absence of violence an opinion poll by the CIS research centre shows only 6% of Spaniards now see the group as one of Spain's main problems - 78% cite unemployment as the chief concern.
For once, the government feels it has the upper hand.
Once a safe-haven for Eta members on the run, France is now the scene of regular joint police operations.
Figures show that 113 Eta suspects were detained in 2010, 22 of them in France.
Several men described by Spain as senior military commanders of Eta have been arrested. Experts say most members left on the ground are now young and inexperienced, and easier to capture.
So when Eta made its statement on Monday, Prime Minister Jose Luis Rodriguez Zapatero warned that his government would not "lower its guard or "permit any tricks".
Spain's main opposition party, the PP, found Eta's move so meaningless it repeated a statement from 2006 in response - the last time the militants declared a "permanent" ceasefire. Nine months later a bomb at Madrid airport killed two people.
The socialist government's decision to hold peace talks with Eta in 2006 was controversial.
Its failure was a humiliation and it has taken a hard-line in its approach to the issue ever since. That is not about to change. There are local and regional elections this year and the governing party - PSOE - is tumbling down the opinion polls. It cannot afford any risky moves.
The "trick truce" of 2006 is at the forefront of most Spaniards' minds today when they consider Eta's latest announcement.
"(ETA) is only stopping to see how the state behaves. If the state does not behave well, they will return to arms - which they are not handing over now, and have not even announced they will hand over," writes wJuan Cruz in the Spanish daily El Pais.
Like many, he points to the way Eta delivered this statement as further proof nothing has changed: a video statement by militants in all-covering white hoods, defiant fists raised for Basque independence.
Most commentators agree that the reason for Eta's decision is politics.
Banned by the courts, the militants' political wing has seen nationalist parties opposed to violence fill its space on the political scene. With local elections now looming, Batasuna urgently wants back in the game. For that the government insists it must renounce violence and cut its ties with Eta, or Eta itself has to cease to exist.
"Since the start of the process, Eta has made small concessions to test reaction," Madrid based Eta-expert Luis de la Calle explains. He sees Batasuna, not Eta, as the driving force for the separatists now.
"The problem is the divisions in Eta. There are people in prison who spent 30 years fighting, and they don't want today's Eta leaders to hand over their weapons for nothing. That would be defeat, it would almost be treason."
Eta's latest statement is far from the unconditional surrender demanded by the government. It also maintains the objective of "territoriality" - an independent Basque state that incorporates part of southern France and the Spanish province of Navarra.
But unlike the "end to armed offensive attacks" announced in September, this time Eta has declared a "general" ceasefire. That should include theft and extortion as well as "kale borroka" - street fighting. It has also called for international "verification" of the process.
"I can't deny that Batasuna is making an effort," Spain's interior minister, Alfredo Perez Rubalcaba, said in a TV interview, accepting that the political wing is putting pressure on Eta.
"But it must do the maximum to break with Eta or to convince Eta to drop everything. If not it will not be represented in any institutions, believe me," he warned.
So Batasuna may now be pushing for a third, more forceful statement from Eta. It may try to rally mass crowds, urging a politically weak Basque government to seize a "historic opportunity" for peace. But it may well fail.
The real test of the "permanence" of this ceasefire could then come in May, if Batasuna remains barred from the elections.
Related Internet Links
The BBC is not responsible for the content of external sites.