Kosovo organ trafficking case surgeon bailed in Turkey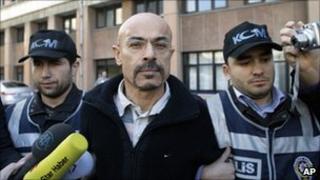 A surgeon charged with a role in the alleged trafficking of human organs in Kosovo has been arrested and bailed in his native Turkey.
Yusuf Sonmez was arrested in Istanbul after he was charged along with eight others by EU prosecutors in Kosovo late last year.
Charges against them include human organ trafficking and the unlawful exercise of medical activities.
Dr Sonmez is said to have previously denied organ trafficking.
The EU prosecutor in charge of the case, Jonathan Ratel, described him as a "key surgical participant" in operations performed at a private clinic on the outskirts of the Kosovan capital, Pristina.
The Turkish judge has less than two weeks to decide if the case against him will move to a trial, the Associated Press news agency reports from Istanbul.
A number of other suspects in the Medicus case were arrested earlier in Kosovo. All pleaded not guilty.
EU justice officials in the breakaway Serbian region, which declared independence in 2008, are expected to decide later this month whether to confirm the indictments and bring the suspects to trial, lawyer Bajram Tmava told AFP news agency.
'Impoverished victims'
Some 20 foreign nationals were recruited in 2008 to sell their kidneys with false promises of payment, according to the indictment.
They were allegedly promised up to 14,500 euros (£12,300; $19,900) while recipients were required to pay between 80,000 and 100,000 euros.
The donors, said to have come from Moldova, Kazakhstan, Russia and Turkey and to have lived in "extreme poverty or acute financial distress", were allegedly transported to Pristina Airport.
From there, prosecutors say, they were brought for surgery to the Medicus clinic, which has since closed down.
An Israeli citizen was allegedly involved in "identifying, recruiting and transporting victims" and "ensuring the delivery of cash payments by electronic bank transfer" prior to surgery.
Kosovo has been haunted by another alleged case of organ trafficking, dating back to the war in 1999.
In that case, which has never been proven, Kosovo Liberation Army (KLA) militants allegedly trafficked the organs of Serb captives they later killed.
A Council of Europe report released by rapporteur Dick Marty last month lists the accusations against the KLA, as well as voicing concern over the Medicus case.
The Parliamentary Assembly of the Council of Europe is due to debate the report when it holds its winter session on 24-28 January.