Italy PM Silvio Berlusconi prostitute allegations widen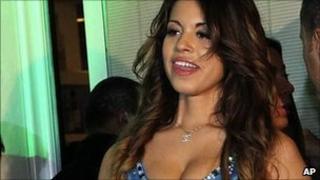 Italian prosecutors have alleged that Italian Prime Minister Silvio Berlusconi had sex with a "significant number" of young prostitutes.
In a request to search some of Mr Berlusconi's properties, they cited allegations that he had paid the women or given them free use of apartments.
The prosecutors are investigating whether Mr Berlusconi paid to have sex with a 17-year-old nightclub dancer.
Mr Berlusconi says he has never paid for sex.
The document that emerged on Monday was published on the website of Italy's lower house of parliament.
It was announced on Friday that Mr Berlusconi was under investigation.
Prosecutors have to make a request to a parliamentary committee if they want to search the property of a member of parliament.
The document includes allegations that Nicole Minetti, a former dental hygienist of Mr Berlusconi's who is now a regional official, was involved with several others in procuring the young prostitutes for the prime minister.
It details claims that a number of young women were put up in apartments in Milano Due, an American-style suburb that Mr Berlusconi built during the 1970s.
Ms Minetti, who is under investigation, has denied the accusations.
Prostitution is not a crime in Italy, but paying for or helping arrange sex with a prostitute under the age of 18 is an offence.
'Nothing wrong'
Mr Berlusconi is also suspected of abusing his power to have the 17-year-old dancer, Karima El Mahroug, freed from a police cell.
The prime minister has previously admitted calling the police on Ms El Mahroug's behalf, but says he did nothing wrong and acted out of pity.
Ms El Mahroug has denied having sex with Mr Berlusconi, though she has said she received money from him.
She is widely known by her stage name, Ruby Rubacuori - Ruby Heartstealer.
She says she gave her age as 24 when she attended a Valentine's Day party at one of Mr Berlusconi's houses last year.
Mr Berlusconi, 74, has been embroiled in a series of sex scandals since separating from his second wife, Veronica Lario.
He has denied any wrongdoing.
Mr Berlusconi said in a broadcast on Sunday that he had been in a stable relationship since splitting with Ms Lario.
"It's absurd to even think that I would pay to have sex with a woman," he said.
"I would consider it degrading."
The latest revelations come at a time when Mr Berlusconi's government has been struggling to maintain its majority.
The prime minister, whose five-year term is due to run until 2013, narrowly survived a confidence vote in December.