EU urges Albania to defuse political crisis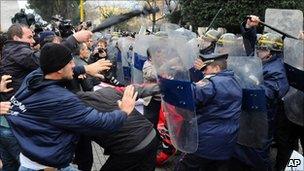 The European Union has urged Albania's rival political leaders to restore respect for state institutions.
Three people were shot dead on Friday when anti-government demonstrators clashed with police.
EU envoy Miroslav Lajcak met Albanian leaders in the capital Tirana on Wednesday, in a mediation effort aimed at easing tension and getting Albania's EU membership bid back on track.
Mr Lajcak said it was up to Albania's leaders "to do what we ask them to do".
Addressing a news conference, he said: "I reminded your political leaders of their shared responsibility for preventing any further violence and bloodshed... and respecting state institutions. No one is above the state institutions."
The government of Prime Minister Sali Berisha announced the cancellation of a pro-government rally scheduled for Saturday.
Albanian prosecutors issued arrest warrants for six members of the security forces over the deaths of three men who were shot outside Mr Berisha's office on Friday.
TV footage appeared to show shots coming from inside the prime minister's compound.
Tension between Mr Berisha's government and the opposition Socialists grew last week, after the resignation of Deputy Prime Minister Ilir Meta. He was accused of corruption over a power plant tender.
In Friday's unrest, thousands of protesters pelted Mr Berisha's office and police with stones and eggs. Police fired tear gas, rubber bullets and stun grenades in response.
"I made it clear that the European future for Albania depends very much on whether the political leaders choose to do what we ask them to do, and do it now," Mr Lajcak said after the talks.
He met Mr Berisha, President Bamir Topi and opposition leader Edi Rama.
Albania is a Nato member and applied for EU candidate status before its last parliamentary election in 2009. But the EU has highlighted the need for Albania to tackle corruption and foster a democratic political culture.
The demonstrators say the government stole elections held in 2009, which Mr Berisha's Democratic Party won by a small margin.
They want a new vote, though none is scheduled until 2013.
Related Internet Links
The BBC is not responsible for the content of external sites.