Russian police battle suspected militants in Dagestan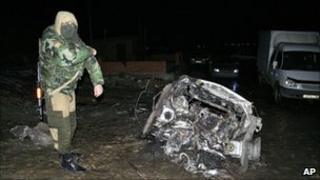 Russian police have exchanged fire with suspected militants after cornering them in the southern region of Dagestan, Russian news agencies report.
Shooting erupted at 1530 (1230 GMT) after the suspects, surrounded in a house outside Khasavyurt, refused to surrender, anti-terrorist police said.
It was unclear whether the police operation was linked to a bomb attack the previous day.
That attack killed four people and injured three at a cafe in Khasavyurt.
In another, unconfirmed report, a police official was shot dead in the Dagestani town of Babayurt.
Islamist separatists in Dagestan, which borders Chechnya, have been fighting the Moscow-backed authorities for years.
It was not immediately clear how many suspects had been surrounded in the house in the village of Severny, on the outskirts of the town.
Police were storming the house, Interfax news agency quoted a source in the FSB secret police in Dagestan as saying.
Villagers were evacuated at the start of the police operation to arrest the militants, said to be members of the "Khasavyurt group".