Hunt for missing Swiss twins intensifies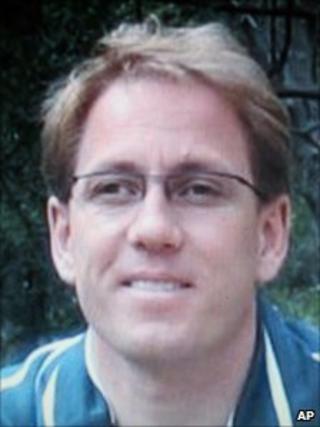 An international police search is continuing for two Swiss six-year-old twin girls, missing since their father killed himself on Thursday.
Alessia and Livia were taken by Canadian-born Matthias Schepp from his wife's home on 30 January.
Schepp travelled to France and then Italy, throwing himself under a train in the south of the country.
Swiss police have said there is no record of Schepp ever being violent towards the girls or his wife.
The girls' uncle said the little girls spoke both Italian and French fluently and would be capable of seeking help if left in their own.
Some 40 Swiss police investigators, along with French and Italian police, are taking part in the hunt.
Unconfirmed reports suggest the last verified sighting of the three was at the French port of Marseille.
Italian newspapers report that Mr Schepp purchased three tickets for a ferry travelling from the port city to Propriano, in Corsica.
However, Swiss police have said the last and only confirmed sighting of the trio was on 30 January near St Suplice, Switzerland, where both the father and mother had their homes.
Alessia was dressed in a striped white, pink and red tee shirt, blue jeans, black boots and a white quilted anorak, while Livia was wearing a purple ski anorak, and white and pink running shoes.
Missing money
Speaking in Lausanne, Swiss police spokesman Jean-Christophe Sauterel said there was no evidence that the girls had been in Switzerland, France or Italy since the last sighting near St Suplice.
"They were seen that Sunday afternoon, around 1300 (1200 GMT), when they were playing with the children of a neighbour, and that's when the father picked up his daughters," he said.
"According to all elements gathered up to now, the father was never violent with his wife or with his daughters, so this is a very particular situation," the spokesman added.
There are reports that a last will and testament was found at the St Suplice house where Mr Schepp had been living since his estrangement from his wife. According to Italian newspapers, he left everything to her and his daughters.
Swiss police have been searching Lake Geneva while Italian police examined wells and water tanks in and around Cerignola Campagna, in Puglia, where the body of Matthias Schepp was found on train tracks.
An Audi car Schepp had been driving was found on Thursday at Cerignola.
Schepp sent his wife a postcard from Marseille, saying he was desperate and could not live without her. It is unclear whether or not he subsequently boarded the ferry with his daughters.
While in Marseille, he reportedly withdrew a total of 7,500 euros (£6,300; $10,200) from cash-points but was found dead with just a few hundred on his person.
Valerio Lucidi, the little girls' uncle, told reporters on Monday that they were "very lively" and "not shy".
He added that their father had known the south of France and Corsica very well from sailing trips.
He said he could not imagine Schepp hurting his daughters, adding that the dead man had had a twin brother himself, Swiss newspaper La Tribune de Geneve reports.