Hungary sludge plant 'still a threat', says Greenpeace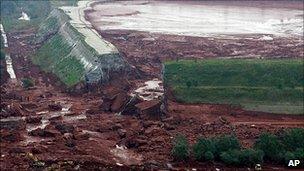 Waste water from a Hungarian aluminium plant still contains toxic chemicals that threaten a local river, despite a big clean-up there, Greenpeace says.
The international environmental group has urged the EU to put pressure on the Hungarian government immediately to stop the "constant pollution".
Ten people died last October when red sludge poured from one of the plant's reservoirs into a nearby village.
Officials could not be reached for comment on the latest water analysis.
Greenpeace took water samples at six points along a waste water channel, which feeds into a stream called the Torna. The Torna is part of a river system that flows into the Danube.
The village worst hit by the disaster - Kolontar - is only 45km (28 miles) from the Danube.
'Threat to humans and nature'
A Greenpeace Hungary campaigner, Balazs Tomori, said the samples taken on 26 January were sent to two independent labs for analysis - Balint Analitika in Budapest and Vienna's Environment Agency Austria.
He said the waste water came from reservoir 10 - the one that burst last October - and 10a, a smaller reservoir used to hold some of the toxic waste after the disaster.
"The EU Commission has to intervene with the Hungarian government immediately to stop this threat to humans, animals and nature," Mr Tomori said.
The aluminium company, MAL, denied liability for the accident last year at the Ajka plant. Since the disaster it has resumed production there.
The BBC's Nick Thorpe, who reported from the stricken area last year, says the Hungarian government wants to save the company and the 1,300 jobs at Ajka.
But it is also true that the government has been a sharp critic of the company's environmental record.
The clean-up has been generally regarded as a success, and most local people who fled the sludge have gone back to the area, our correspondent says.
The tests at the Environment Agency Austria showed 1,300 micrograms of arsenic per litre in the waste water samples. Austria's corresponding safe limit is set at 100 micrograms.
The aluminium content was found to be 200,000 micrograms per litre - 100 times above the legal limit, Greenpeace reported.
The amount of organic carbon in the water was also far above the legal limit.
Last year huge quantities of gypsum and chemical fertilisers were added to the waters of the Marcal and Raba rivers, to lower the dangerously high alkaline levels in the toxic red sludge.
A state body, the Central Danube Water Management Authority, has been continuously monitoring the water chemistry since the disaster.
Related Internet Links
The BBC is not responsible for the content of external sites.