Irish general election: a dull first week
By Shane Harrison
BBC NI Dublin correspondent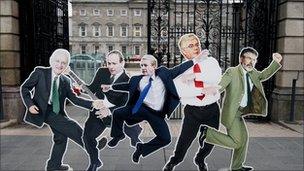 As soon as the Irish prime minister Brian Cowen announced the election date the posters went up - only to come down again soon after because of strong winds and heavy rain.
But by Irish election standards the lamp posts remain relatively poster-free in what many believe is a very dull campaign so far.
Maybe that is because, in the wake of the 85 billion euro European and IMF bailout loan, voters have already made up their minds about who they want to govern them.
The opinion polls over the last week have been remarkably consistent.
Enda Kenny's Fine Gael party is the low to mid-thirties in percentage terms.
Eamon Gilmore's Labour is is in the mid-twenties, while Micheal Martin's Fianna Fail is in the mid-to-high teens.
Gerry Adams' Sinn Fein is in the low to mid-teens while independents are around 15% and John Gormley's Greens below 5%.
About a fifth of the electorate are undecided.
Based on those figures Enda Kenny is almost certain to tbe the Taoiseach.
The only question is whether Fine Gael will form a minority government or, more likely, end up in coalition with Eamon Gilmore as deputy prime minister.
It is clear voters still blame Fianna Fail for the collapse of Ireland's over-heated and under-regulated economy, which became too dependent on a property boom.
The party, which negotiated the bailout, has been forced to make a virtue out of making no spending pledges.
And the bailout is probably another reason why it has been such a dull campaign.
Polls show that voters want to see some form of renegotiation of the loan but know that that no Irish government can do so unilaterally.
Any change will have to be right across the European Union and Ireland, new government or not, is not going to get a sweet heart deal.
And that means Ireland will still have to take another €15 billion out of the economy, either in the form of spending cuts or tax rises by 2014, in line with the National Recovery Plan.
Labour and Sinn Fein believe that deadline can be extended but Fianna Fail insists it is in the state's interest to reduce the interest repayments on the loan as soon as possible.
When seen through that prism it can be hardly surprising that many believe it will make little difference, other than psychological, who will be in power over the next few years.
Perhaps, it has been argued, what is happening on the streets in Cairo and elswewhere in the Arab world may have more impact on the lives of Irish voters over the terms of the coming parliament than the actual election.
But that does not mean the parties will not keep trying to persaude voters to turn to them as they chase the undecided vote.
It is possible the election debates will put some life into a dull campaign.
Maybe a leader will make a huge mistake but, as of now, there's little sign of that happening.
And while it is true that Gerry Adams has received a bad press for his "economic illiteracy" and populism, it has not so far damaged Sinn Fein.
As we face into week two of the campaign many a journalist hopes it will liven up a little and become a bit more interesting.
A few more posters on the lamp post might be a small start.