French PM Fillon says Mubarak lent him plane on holiday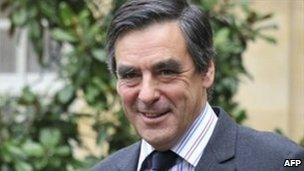 French Prime Minister Francois Fillon has said the Egyptian president lent him and his family a plane during a holiday in Egypt at new year.
Hosni Mubarak, who is facing widespread anti-government protests, also paid for Mr Fillon's holiday accommodation.
Another French minister has faced calls to resign after saying she used a Tunisian businessman's plane during the country's uprising.
Foreign Minister Michele Alliot-Marie has said she regretted her actions.
A statement from the prime minister's office, released after the satirical weekly Le Canard Enchaine broke the story, said Mr Fillon took the trip to Egypt between 26 December and 2 January.
"The prime minister was put up during this visit by the Egyptian authorities."
Mr Fillon, again at the invitation of the authorities, "borrowed a plane from the Egyptian fleet to travel from Aswan to Abu Simbel where he visited a temple", the statement said.
The prime minister "also embarked on a boat trip on the Nile in the same conditions," meaning at the expense of the Egyptian authorities, it said.
Mr Fillon met Mr Mubarak during the visit on 30 December in the southern city of Aswan.
For his flight from France to Egypt, Mr Fillon travelled on a French government plane but paid for it "in accordance with the rules he has set himself and which apply to every private trip", it adds.
At least 300 people have been killed in two weeks of protests seeking to oust Mr Mubarak, who has ruled Egypt for almost 30 years.
Mr Mubarak has said he will not seek re-election in September, but is facing mounting international pressure to begin a political transition immediately.
Mr Fillon has in recent days expressed support for his foreign minister as she fought pressure to step down over her alleged links with the ousted Tunisian leader Zine al-Abidine Ben Ali.
Earlier this week, Ms Alliot-Marie told French radio "it was an error" to fly on a Tunisian plane owned by Aziz Miled, a businessman with close links to Mr Ben Ali.
Mr Ben Ali, who had ruled Tunisia for 23 years, was toppled after widespread protests against his rule.
France had had close ties with Mr Ben Ali when he was in office, but when the long-time leader fled his country French President Nicolas Sarkozy declared he would not be welcome in France.