Family of missing Swiss twins say they fear the worst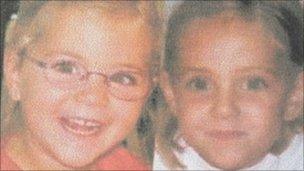 The family of two missing Swiss six-year-old twin girls say they fear the worst after receiving money posted by their father before he killed himself.
An international police search is continuing for Alessia and Livia, who have not been seen since their father Matthias Schepp's body was found in Italy on Thursday.
There had been hopes Schepp might have used the money to pay for a carer.
Evidence also emerged that the girls might never have left Switzerland.
The girls' uncle, Dr Valerio Lucidi, said that Schepp had sent 4,400 euros (£3,730) to his estranged wife before he died.
According to police, the Canadian-born father withdrew 7,000 euros in the French port of Marseille last week.
"It worries us because the theory that he might have paid someone to keep the children doesn't hold any more," Dr Lucidi said, speaking on behalf of the family.
"The fact that he sent back the money is worrying."
The hunt in Switzerland has intensified to focus on a lake near St Sulpice, the family's home village outside Lausanne.
Boats in nearby towns, and petrol stations between Lausanne and Geneva, that may have been used by the father, are also being searched.
Speaking to Swiss newspaper La Tribune de Geneve, Dr Lucidi added that the girls' passports were in the possession of their mother and they were not inscribed in their father's passport, begging the question, how could they have been taken out of Switzerland?
Nor did Schepp take the two girls' car seats with him.
Police also confirmed for the paper that when Schepp took a ferry from Marseille to Corsica, he arrived on the island alone.
But police stressed that the fate of the twins was still unclear.
"Concerning Alessia and Livia, currently we have no certainty," said police spokesman Jean-Christophe Sauterel.
"We do not know today if they are alive or dead,"
Schepp took the twins from St Sulpice on 28 January, before travelling to France and then Italy, where he threw himself under a train.
He sent his wife a note from Marseille saying he could not live without her, and a letter a day later from nearby Toulon.
Police say the only confirmed sighting of Schepp with the twins was on 30 January in St Sulpice.
Dr Lucidi said this was when the girls were playing with a neighbour's child.
Schepp's mobile phone showed he was in nearby Morges about two-and-a-half hours later, and he then went to Geneva and crossed into France in the Annecy region, police said.
After Corsica, he is believed to have travelled on to Naples in Italy.
Schepp's body was found on train tracks in Cerignola Campagna, in Puglia.
He was found with only about 100 euros on his person.
Swiss police have said there is no record of Schepp ever being violent towards the girls or his wife.
The girls' uncle said the little girls spoke both Italian and French fluently and would be capable of seeking help if left on their own.
Alessia was dressed in a striped white, pink and red t-shirt, blue jeans, black boots and a white quilted anorak, while Livia was wearing a purple ski anorak, and white and pink running shoes.