Anti-Berlusconi 'talking' statues appear in Rome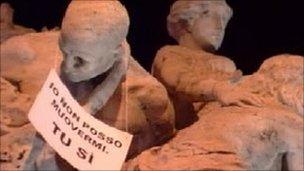 Protesters have hung banners on statues around Rome to condemn what they say is Italian PM Silvio Berlusconi's "unacceptable" behaviour.
The Nessun Dorma group said it wanted to revive Rome's ancient tradition of publicly criticising those in power.
Mr Berlusconi, 74, could face trial for alleged sex with an underage prostitute and abuse of power.
The prime minister denies all the allegations, saying they are politically motivated.
The Nessun Dorma (None Shall Sleep) group said it had hung banners on 150 statues in the Italian capital during the night.
"Italy is not a brothel," one placard reads.
"The game's over," says another. "The body of Italy is not for sale," says a third.
The placards have been made by women incensed by Mr Berlusconi's behaviour.
A Nessun Dorma spokesman said that the protesters had wanted to "show that Italy is a country that is better than the current government".
Social commentary posted on ancient statues is a tradition which dates back at least 400 years to the time when the Popes were the civil as well as the ecclesiastical rulers of Rome and of the whole of central Italy, the BBC's David Willey in Rome says.
Freedom of press was unheard of at the time, and rebels who challenged the Church were sometimes burned to death for heresy, our correspondent says.
He adds that even now there are still at least six talking statues scattered around the city which regularly attract postings of political satire - often witty, usually written in local Roman dialect.