Angelo's agony: 'Giant' Dutch prisoner loses cell plea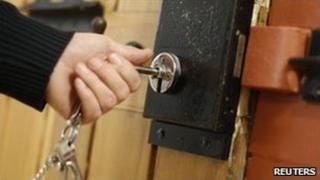 A Dutch court has ruled that while the prison conditions of a "giant" prisoner are "somewhat cramped", they are not inhumane, and he must stay in jail.
The inmate named as Angelo MacD had asked to complete his two-year sentence for fraud under house arrest, Radio Netherlands Worldwide reports.
Weighing 230kg (36st) and standing at 2.07m (6ft 9in), MacD has had trouble sleeping and using the toilet.
Despite the setback, his lawyer hopes to get his jail conditions improved.
Prison officials previously tried to relieve MacD's discomfort by adding a a 2.15m plank and an extra mattress to his bed, which is in a single cell at the prison in the south-western town of Krimpen aan de IJssel.
No photograph is available of the prisoner but his lawyer, Bas Martens, earlier told the BBC that his client was not obese, but a giant straight out of the comic books - "a metre wide and a metre deep".
MacD began his sentence on 29 September and is not due for release until 12 April 2012.
Appeal to governor
Mr Martens said there was little point in trying to appeal against the decision of the court in The Hague because of the length of time it would take to process, and forthcoming changes to the provision of electronic tagging.
He had argued that his client's conditions of detention violated the European Convention on Human Rights, and insisted that MacD was not trying to get out of serving his time.
"It is disappointing," he said after the ruling on Tuesday. "We have tried all possible avenues to organise an alternative for the situation he is in at present."
While the judge ruled that MacD could not expect to have a whole cell rebuilt for him, Mr Martens took heart from a remark he made that "the facilities could be improved".
He plans to use this remark to appeal to the prison governor one more time.
MacD's current cell would probably be adequate for most prisoners but for him, the problems start in the doorway, where he must bow his head to pass through.
His bed, which is fixed to the wall, is 77cm wide and 1.96m long, according to a sketch provided by Mr Martens.
This means that his client must sleep on his side.
While the plank and extra mattress supplied by the prison authorities were meant to make him more comfortable, he now has to "sleep with one eye open in case he falls out of bed", Mr Martens said.
To take a shower, he must first wedge himself into the cubicle, then crouch down under the head.
So tiny and low is his toilet, he complains, that "visits" must be kept to the absolute minimum.
Other alleged problems included a lack of adequate space for family visits and suitable seating in the prison canteen.
Mr Martens pointed out that his client was unable to do prison work for similar reasons, despite this being a requirement of his sentence.