Moscow airport bombing suspect's siblings arrested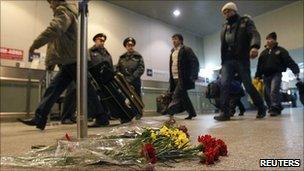 Russian officials say they have arrested the brother and sister of the suspected suicide bomber who attacked a Moscow airport last month.
Russian security sources have identified the suspected bomber as Magomed Yevloyev, 20, from a village in Ingushetia in the northern Caucasus.
Officials now say they have arrested his brother, Akhmed, and sister, Fatima, Interfax news agency reported.
A Chechen warlord has said he ordered the attack on Domodedovo airport.
Some 36 people were killed and about 180 people were wounded in the bombing.
Mr Yevloyev's siblings can be held for up to two months while officials investigate whether or not they were involved in the attack, Russian media reported.
Ingushetia borders war-torn Chechnya.
Doku Umarov - one of Russia's most wanted men - claimed in a video posted online that he had ordered the bombing. The footage is dated 24 January, the day of the attack.
He is the self-styled leader of the "Caucasus Emirate" and is considered the head of the Islamist militant insurgency in the North Caucasus.
Mr Umarov has previously claimed responsibility for the March 2010 suicide bombings on the Moscow Metro in which 39 people died.
He is also said to have ordered the November 2009 bombing of a train from Moscow to St Petersburg that killed 26.
Related Internet Links
The BBC is not responsible for the content of external sites.