Missing Swiss twins 'last seen on Corsica ferry'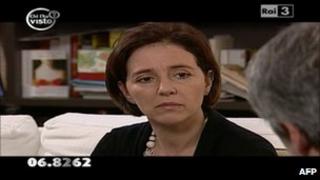 The six-year-old Swiss twin daughters of a man who killed himself in Italy were last seen with him on a ferry to Corsica, French prosecutors say.
Three witnesses saw Alessia and Livia on the ferry with Matthias Schepp, prosecutor Jacques Dallest said.
It was the first confirmation that the girls had boarded the boat.
An unconfirmed report has also emerged that the girls were seen in Italy with their father shortly before he threw himself under a train.
Family members fear the worst after Schepp was found dead on the railway line last Thursday.
Fighting back tears, the girls' mother, Irina Lucidi, went on Italian TV on Wednesday to urge viewers who might know anything about the case to contact police.
"I appeal to whoever has seen them or knows something to contact the police," she said on Rai 3's prime time news bulletin.
"The fact that all three were seen in Corsica on a ferry is of course a sign of hope that they may be somewhere in somebody's care."
A Facebook page appealing for information has also been created.
'Cafe sighting'
"We know since yesterday [Tuesday] from passengers on the boat between Marseille and Propriano that he was with the little girls," Mr Dallest told reporters in Marseille.
He said a woman in a neighbouring cabin reported hearing "children crying in the evening and that shortly afterwards, she saw the little girls and was able to formally identify one", he said.
Mr Dallest said the woman had later seen the girls in the play room of the boat.
However, he said investigators had drawn a blank as to the girls' whereabouts after the crossing.
He said one witness reported seeing two children get off the ferry in Propriano with an adult but could not be sure it was the missing girls.
Schepp had originally picked up his daughters in their home village of St Sulpice, where both he and his estranged wife have homes.
Police in southern Italy have been interviewing a cafe owner who reported seeing a man and his daughters who fit the description of Alessia and Livia sometime last week.
The cafe is the outskirts of Cerignola, the town where Schepp was found dead.
Oriana Scelsi, owner of the Fiore cafe, told the Associated Press news agency she had seen a man who fitted Schepp's description with two girls, some time last week.
She said she was sure that they were the girls and that their father had come into the bar last week asking for a bathroom for one of them.
"They stopped at the door, the father asked for a toilet because they were running late," Ms Scelsi said.
"He said, 'Come on, come on Lia, or else we'll be late for the train'."
The cafe-owner said she had she heard "Lia" but that she might have misheard the man saying "Livia".
She said the man had a strange accent and had asked for a "toilet", rather than a "bagno" (Italian for bathroom).
She added that the girls appeared older than their newspaper photos but that she was certain it was the twins.