French President Sarkozy bans ministers' foreign breaks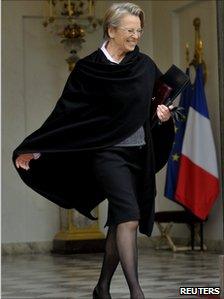 French President Nicolas Sarkozy has told his government to holiday at home in response to revelations about two high-profile members of his government.
Foreign Minister Michele Alliot-Marie faced calls to resign after it emerged she flew on a Tunisian businessman's plane during the country's uprising.
And PM Francois Fillon admitted he took a new year break in Egypt, paid for by President Hosni Mubarak.
Mr Sarkozy said ministers must now "prefer France for their holidays".
His remarks were made to a meeting of his cabinet at the Elysee Palace, after an outcry from opposition politicians.
Ms Alliot-Marie has already admitted that she made "an error" in accepting two flights on a Tunisian plane owned by Aziz Miled, a businessman with close links to ousted ruler Zine al-Abidine Ben Ali.
In an interview at the weekend, she indicated that future foreign holidays would now be unlikely as long as she was in government.
"I don't know where I'll go on holiday. I don't think I'll be leaving the Dordogne at this rate," she told French radio.
While the foreign minister's visit coincided with demonstrations against the Tunisian regime, Mr Fillon's family holiday at the expense of the Egyptian president took place before the protests against his rule.
The prime minister and his family were given lodgings, used an Egyptian plane for an internal flight and took a boat trip on the Nile all at Egyptian expense.
But opposition figures complained that both visits were unethical, with Socialist leader Martine Aubry arguing that France had "lost its public spiritedness".
Announcing the shift in policy on foreign holidays, the French president told ministers that "what was common a few years ago can shock nowadays", according to a transcript from his office.
Mr Sarkozy himself has benefited from Mr Mubarak's generosity, taking his wife, Carla Bruni, to Egypt in 2007.
For the past two winters, he has chosen to travel with Ms Bruni to Morocco, to a royal residence belonging to King Mohammed VI, close to Marrakesh.
"Only by being beyond reproach can people in positions of authority ensure the trust of the people and the institutions of the state," Mr Sarkozy was reported as saying.
Under the new rules, Mr Fillon himself (as prime minister) and the presidential diplomatic unit will have to authorise "invitations accepted abroad" to ensure they correspond with French foreign policy.
It is not yet clear whether the rules will also apply to the president.