Ski schools prepare for EU single market rules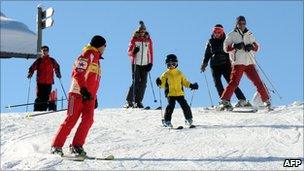 European ski instructors aim to prevent the EU from watering down a demanding "Eurotest" qualification already recognised by five countries.
Ski instruction is among dozens of professions that the European Commission wants to include in new EU single market legislation.
Only architects and six healthcare professions now have EU-wide, automatic recognition of their qualifications.
Ski professionals are now trying to agree on common, EU-wide standards.
Dave Renouf, operations manager at the British Association Of Snowsports Instructors (BASI), told the BBC that French ski instructors "are absolutely on board" with efforts to introduce a professional card recognised across the EU.
Five countries - Austria, France, Germany, Italy and the UK - currently adhere to the Eurotest, which requires ski instructors to pass a tough downhill slalom at racing speed.
There is also a requirement for mountain safety knowledge, covering such things as avalanches and navigation.
"The average apprenticeship for instructors in the five countries is five to six years," Mr Renouf said.
An EU-wide system would get rid of current bureaucratic hurdles, he said, "but the Eurotest would carry on".
France is a magnet for ski instructors from all over Europe, as it is the world's second biggest market for the sport, the French news agency AFP reports.
A British instructor quoted by AFP complained that France made it especially difficult for foreign instructors to get business, setting the bar very high.
But according to Mr Renouf, France has some 25,000 qualified ski instructors whereas about 300 British instructors are qualified to teach in the Alps, so the British are hardly a major threat.
The government-controlled French Ski Schools (ESF) has about 7,000 instructors teaching this season, some of whom are British.
ESF's technical director in Alpe d'Huez, Gilles Forte, said "the British have made big efforts to train good instructors to work in France and they have reached the required standard".
"But there is a problem with Belgian and German instructors who don't have the necessary skills," he told the BBC.
He said the high technical level set by the Eurotest must be maintained in future.
There was a 43% pass rate in last month's Eurotest exam in Alpe d'Huez, he said.
According to Mr Renouf, "ESF had a monopoly, but because of competition they've raised their game".
"Often British instructors set their prices much higher than the locals - it's a reaction to the needs of British clients... It's a lot more tailored to the individual client, more bespoke than the traditional approach."
Under the European Commission plan, various professions will introduce a European Professional Card, showing that a practitioner has reached an EU-wide standard and is qualified to do that job in another EU country.
In skiing, the card would help to keep cowboy instructors off the slopes - which is why the French are in favour of it, Mr Renouf said.
Lt Gilles Chessel, a French alpine policeman quoted by AFP, voiced support for a system that would make it easier to catch unqualified ski instructors.
"To prosecute an unqualified ski instructor you have to prove that money changed hands with his clients and catch him in the act," he said.
Competition on the slopes has led to legal disputes over qualifications - hence the drive for a more streamlined system in Europe.
A German snowboard instructor, Mattias Prinz, took France to the European Court of Justice, arguing that his qualification should have been recognised in the French Alps.
But the court dropped the case last July after France agreed to make an exception for Mr Prinz.
Under the French system, snowboard instructors also have to qualify as ski instructors. But in Germany and the UK there are separate exams for each snow discipline.
Some Italian Euro MPs have also voiced concern about foreign instructors taking business away from locals in Italian resorts.
Italy's system is different again - very regionalised, with different rules prevailing from one resort to the next, Mr Renouf said.
Europe's disputes over professional qualifications are seen as a brake on implementation of the EU Services Directive - a flagship piece of single market legislation. The 27 member states have been slow to put it into effect.
The Commission argues that labour mobility is vital for the EU to boost growth and compete in future with new global powers like China and India.
Automatic recognition of qualifications applies to just seven out of more than 800 recognised professions in Europe.
The seven are: doctor, nurse responsible for general care, dental practitioner, veterinary surgeon, midwife, pharmacist and architect.
Related Internet Links
The BBC is not responsible for the content of external sites.