Russia to deploy more arms on Kurils, claimed by Japan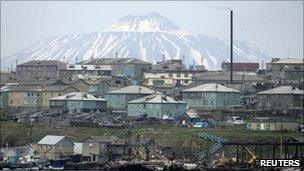 Russian President Dmitry Medvedev has ordered the deployment of additional weapons on the disputed Kuril islands in the Pacific Ocean.
Mr Medvedev said that "modern" weapons would protect the islands which were "an inseparable part" of Russia.
His comments come just two days after Japan - which claims the four southern-most islands - and Russia exchanged heated words on the issue.
Tokyo wants the return of the islands, seized by the Soviet troops in 1945.
The dispute over the islands, which lie north of Hokkaido and are known as the Northern Territories in Japan, has stopped Tokyo and Moscow from signing a peace treaty since the end of World War II.
Mr Medvedev made his comments during a meeting with Russia's defence and regional development ministers in Moscow on Wednesday.
"We will make every necessary effort to strengthen our presence on the Kuril islands. This is our strategic region," the president was quoted as saying by Russian news agencies.
"The additional weapons which will be deployed there must be sufficient and modern to ensure the security of these islands."
Mr Medvedev did not specify which Kuril islands the weapons would be installed on.
Russian Defence Minister Anatoly Serdyukov said that his officials would prepare a deployment programme by the end of February.
Mr Medvedev's remarks come amid a growing diplomatic row over the islands.
On Monday, Japanese Prime Minister called Mr Medvedev's visit to the islands last year an "unforgivable outrage".
Mr Kan was speaking during a protest rally in Tokyo held to demand the return of the islands
Japan has designated 7 February as Northern Territories Day, marking the anniversary of an 1855 treaty which Tokyo says confirms its claim.
Russia's response was swift, with Foreign Minister Sergei Lavrov saying that Mr Kan's remarks were "clearly undiplomatic".
He also accused Tokyo of supporting Japanese nationalist organisations, whose members reportedly burned a Russian flag during the demonstration in the Japanese capital.
Related Internet Links
The BBC is not responsible for the content of external sites.