Ruud Gullit arrives in Chechnya for Terek Grozny job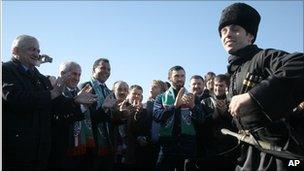 Former Netherlands football star Ruud Gullit has arrived in Chechnya to an enthusiastic welcome as he takes up his new job as coach of Terek Grozny.
The 48-year-old former Chelsea, Newcastle and Feyenoord boss accepted an 18-month contract to coach the Russian Premier League club last month.
He and the team will be based not in Chechnya itself, but a Russian resort.
Asked what he thought of the Chechen capital Grozny, still marked by recent wars, he said he had seen worse places.
"Does it seem awful to me? No," Mr Gullit told reporters.
"I've been in more awful, dangerous and impoverished regions. I've been to Darfur and saw how people live there."
Terek Grozny finished 12th in the 16-team League last year and will open their league campaign against champions Zenit St Petersburg on 10 March.
Their progress through the League has been hailed as a success story by the Russian authorities, anxious to re-integrate Chechnya after two hugely destructive separatist wars with Moscow in the past two decades.
'A little pleasure again'
Hundreds of Terek Grozny fans greeted the Dutch star at Grozny airport before he was driven to a meeting with Chechnya's strong-arm Kremlin-backed leader, Ramzan Kadyrov.
Mr Gullit confirmed that he and the team would live and train in the Russian spa resort of Kislovodsk, about 250km (150 miles) west of Grozny.
He toured a football stadium under construction in Grozny with Mr Kadyrov, who said the team would eventually move to Grozny.
Chechnya was "the safest place" on Earth, the Chechen leader said. However, three explosions were reported in Grozny late the previous evening, with five people injured.
Mr Gullit has brushed off criticism at home that he is consorting with Mr Kadyrov, who is accused of presiding over widespread human rights abuses in his determination to root out any remaining separatist militants.
"You will always have people for and against but I don't want to be involved in politics," the Dutchman said in an interview published last month in Dutch daily De Volkskrant.
"I want to concentrate on the sport and give the people there a little pleasure in their lives again."
Mr Gullit declined to say on Wednesday how much he would be paid, adding that he did not care about money and wanted to help Terek Grozny succeed.
Related Internet Links
The BBC is not responsible for the content of external sites.