Russian drunk driver causes five accidents in half-hour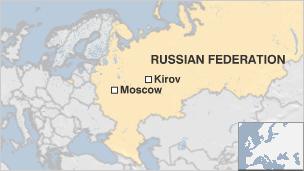 A drunken driver in the central Russian city of Kirov has been jailed for 10 days for causing five accidents in half an hour, injuring three people.
The driver of the Nissan Infiniti careered around the city on Tuesday night in a bid to flee before traffic police cut him off, police said.
Police blocked his escape with several heavy vehicles.
The driver, a Kirov businessman, was arrested and sentenced by a court to 10 days' detention.
It was not clear from the police statement how serious were the injuries inflicted during the accidents.
All of them occurred between 2315 (2015 GMT) and 2350 on Tuesday, a statement on the Kirov police website said.
The driver did not stop at the scene of any of the accidents, heading out of the city instead towards the town of Slobodsky.
Coming into Slobodsky, he found the road blocked by a heavy vehicle, close to a police checkpoint.
Turning back towards Kirov, he found approach roads likewise blocked by heavy vehicles, and headed away from the city again, towards the village of Kominternovsky, where traffic police arrested him.
Police established that he had been drunk at the wheel, despite his refusal to be tested for alcohol.
Related Internet Links
The BBC is not responsible for the content of external sites.