Romania's customs chief sacked after corruption charges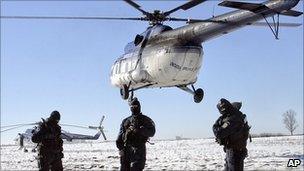 The head of Romania's customs authority has been sacked after being charged in a corruption case.
Radu Marginean was fired by Prime Minister Emil Boc after being accused of taking bribes. He denies the claims.
The move comes a day after 60 Romanian customs officials and border police were detained for alleged involvement in cigarette smuggling.
Romania has been told to tackle official corruption in order to join the EU's passport-free Schengen zone.
Both Romania and Bulgaria are trying to join the zone four years after becoming EU members.
"Prime Minister Emil Boc made the decision to sack the head of the national customs authority given that anti-corruption prosecutors charged him in the... customs case," government spokeswoman Ioana Muntean told reporters.
Romanian official news agency Agerpres said Mr Marginean has been indicted by the National Anti-Corruption Authority (DNA) with bribe taking at the Halmeu customs office.
Mr Marginean's lawyer told reporters his client was innocent.
On Wednesday, Romanian anti-corruption prosecutors announced that 60 customs officials and border police had been detained for alleged involvement in cigarette smuggling from Serbia.
Prosecutors say officials at four western border crossings are suspected of taking bribes of one euro for every carton of 200 cigarettes.
It is alleged that some officials made up to 2,700 euros (£2,290) per shift. A court is due to rule on whether they will be formally arrested.
In December, France and Germany blocked Bulgaria and Romania from joining the Schengen passport-free travel zone, saying both countries needed to make "irreversible progress" in the fight against corruption and organised crime.
Romania condemned the decision, while Bulgaria promised to "do its utmost" to remove doubts about its membership.