Angry French judges strike over Sarkozy comments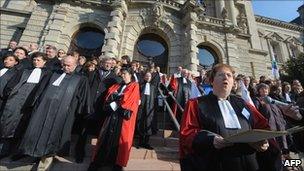 Judges and magistrates have taken to the streets in dozens of French cities in an escalating row with President Nicolas Sarkozy's government.
For days, French courts have heard only urgent cases in protest at Mr Sarkozy's criticism of the judiciary's handling of a high profile murder.
The president said the suspect was "presumed guilty" and condemned the manner in which he was freed from jail.
Magistrates are also angry about what they argue is a lack of resources.
Demonstrations have been reported outside court buildings in towns and cities including Marseille, Paris, Lyon, Bordeaux, Nantes, Caen, Metz and Colmar.
More than 1,000 people are said to have turned out in Paris and Nantes.
The murder of Laetitia Perrais, an 18-year-old waitress who disappeared after work in the western coastal town of Pornic in January prompted outrage in France.
When it emerged that the main suspect, Tony Meilhon, 31, was a criminal with a rape conviction who had been released from prison with no probation officer, President Sarkozy accused the judiciary of making "a mistake".
Police had already been searching for Meilhon because he had not told them his address. The suspect himself has since claimed that Ms Perrais died after a collision involving her scooter and his car.
Her dismembered body was eventually found in a pond after an extensive search.
Mr Sarkozy complained of "serious dysfunctions" in the police and judicial system but he was met with anger from magistrates who complained of inadequate resources.
Meilhon's case was handled by the authorities in Nantes, where officials said that 17 probation officers had been overwhelmed by the workload of looking after 3,300 cases.
The president's intervention led to the magistrates' union calling on its members to go on strike, bringing the court system to a virtual standstill in towns and cities across France.
The head of the union, Nicolas Leger, said on Thursday that Mr Sarkozy had taken a "dangerous gamble" in seeking to rouse popular feeling against magistrates.
He was speaking in Nantes in response to an opinion poll that suggested as many as 65% of people questioned backed the magistrates.
"He's used to this practice, but he should take care that the people don't turn against him," Mr Leger said.
The strike is likely to come up in a TV broadcast on Thursday evening, when Mr Sarkozy takes questions from a selected panel of nine French citizens.
He is also expected to be asked about the "free flights" affair in which the prime minister and foreign minister went on winter holidays at the expense of the Egyptian and Tunisian governments.
Related Internet Links
The BBC is not responsible for the content of external sites.