German father guilty over son's shooting rampage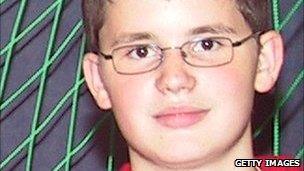 The father of a German teenager who shot dead 15 people before killing himself two years ago has been given a 21-month suspended prison sentence.
Joerg Kretschmer, 52, was found guilty of negligent manslaughter and breaking German gun laws.
He had failed to lock the pistol away and his son Tim, 17, had used it.
Tim Kretschmer killed nine students and three teachers at his former school in the southern town of Winnenden and three others elsewhere.
The 9mm Beretta pistol was legally registered.
The judges concluded that Tim's lethal rampage at Albertville secondary school in Winnenden on 11 March 2009 would not have happened "without the utter mistake of the accused in his storage of the firearm".
Tim shot himself as police closed in.