Cork plane crash: Your reaction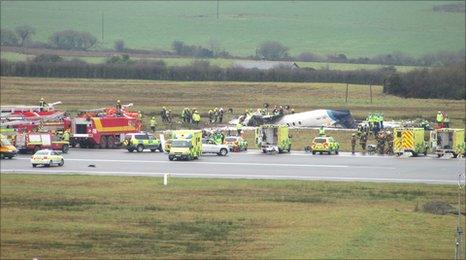 Six people have been killed and six others injured after a small plane travelling from Belfast crashed in fog at Cork Airport.
BBC News website readers and Twitter users have been responding to the news. Here is a selection of their comments:
Vincent Foley works at the business park next to the airport.
He said: "By the time I got to the scene about an hour after the crash there were ambulance and fire crews there.
It was a bit of a strange scene as people were just standing around - there was no fire at that point."
Natalie McCormack was nearby and witnessed the congestion on the roads.
She said: "All roads leading to the airport were blocked by police to allow emergency services to and from the hospital.
Drivers have been warned not to travel towards the airport or near the airport roundabouts."
People have tweeted about the incident:
Jump jockey AP McCoy - @AP_McCoy - tweeted: Shocking news about plane crash in cork airport best wishes and thoughts 2 every1 involved
Actor Gerard McCarthy - @Gerard_McCarthy - tweeted: Thoughts & prayers for the families of those who died in the Belfast to Cork plane crash. Terrible news.
Singer Shayne Ward - @shayneTward - tweeted: My thoughts and prayers are with the families of the cork plane crash.
Amy F - @MemersX - tweeted: So horrible about the plane crash in #cork. Things like this just don't ever happen in ireland. Prayers with them.
Barbara Scully - @aurora111 - tweeted: What a sad day! So sorry for all involved in the cork air crash. Sad day for aviation.