EU denies Russia-Asia gas pipeline rivalry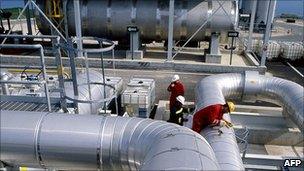 The EU's new partnerships with energy-rich Central Asian countries do not threaten Russian gas sales to Europe, the EU's energy commissioner says.
Guenther Oettinger said "we don't want to block South Stream", referring to a plan to pump Russian gas to the Balkans and Italy via a new southern pipeline.
Last month Azerbaijan pledged to export gas to the EU through a different pipeline - Nabucco - via Turkey.
Nabucco and South Stream have been seen as potential future rivals.
EU officials have made no secret of the fact that they want to reduce the EU's reliance on imported Russian natural gas.
A big part of the plan is a new "Southern Corridor", tapping into the gas resources of ex-Soviet Central Asia and possibly northern Iraq. North Africa is also set to increase gas exports to the EU in future.
Russia currently provides a quarter of total EU gas supplies. Seven countries in the 27-nation bloc are almost totally dependent on Russian gas.
Nabucco - not yet built - is part of the effort to diversify Europe's energy sources.
Mr Oettinger's spokeswoman, Marlene Holzner, said Azerbaijan was now weighing up the offers on pricing from the various companies involved in Nabucco.
Azerbaijan plans to pump gas into Nabucco from its Shah Deniz II field in the Caspian Sea. The 3,300km (2,046-mile) pipeline is expected to deliver up to 31bn cubic metres of gas annually. Turkmenistan is also poised to be a supplier.
"Azerbaijan pledged that Europe would get a substantial amount of gas," Ms Holzner told reporters on Friday.
Azerbaijan and the European Commission President, Jose Manuel Barroso, declared the joint goal last month of making the Southern Corridor operational as soon as possible.
Both Nabucco and South Stream will avoid Belarus and Ukraine - transit countries with a history of pricing disputes with Russia.
One such dispute in January 2009 caused a serious energy shortage in several EU countries. Mr Oettinger said "we have all learned" from that crisis, which "had only losers".
Now EU states are obliged to keep 30 days' worth of gas supplies in storage and new connections are being developed to pump gas from north to south and from west to east.
Mr Oettinger also signalled the Commission's determination to negotiate energy projects on behalf of the whole EU.
"We want a mandate for a one-voice policy and for the Commission to work on these projects," he said.
In recent years, Russia has struck separate gas deals with various EU governments, including the Nord Stream gas pipeline project with Germany.
Related Internet Links
The BBC is not responsible for the content of external sites.