Father's suicide letter 'admits killing' Swiss girls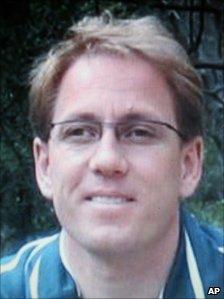 The father of missing twin girls from Switzerland wrote a letter saying that he had killed his daughters before he killed himself, Swiss police say.
Police say the letter was dated 3 February, the day Matthias Schepp threw himself under a train in Italy.
He and the six-year-old girls were last seen on a ferry from mainland France to Corsica on 31 January but there has been no trace of the girls since.
Schepp failed to return them to his estranged wife at the end of January.
The girls' mother, Irina Lucidi, reported Alessia and Livia missing on 30 January, sparking a major international manhunt.
"The last envelope dated February 3 contained a letter in which the father said he killed the two girls, saying he was in Cerignola [southern Italy] where he was about to kill himself," police spokesman Jean-Christophe Sauterel said.
"I can confirm that in his letter he also said that they did not suffer and were resting in peace."
Swiss police said that Schepp sent eight letters from Bari, Italy, to his wife in Switzerland, the first seven containing a total of 4,400 euros (£3,700; $6,000).
The 43-year-old father had been looking after the girls for the weekend, but failed to return them to their home in St Sulpice, Switzerland, as planned.
He picked up the girls on 28 January, before travelling to France and Italy. He was found dead in Cerignola, in the region of Puglia.
He was spotted with the girls on an overnight ferry from Marseille to the island of Corsica, arriving on 1 February. It is not known if he had the girls with him when he arrived.
Police have said Schepp was on his own when he sailed to the port city of Toulon in France the same day.
"In all likelihood they are in Corsica," said Mr Sauterel.
Swiss police have already revealed that Schepp had trawled websites on ferry schedules, suicide, guns and poison before taking the girls.
"We are dealing with someone who was extremely meticulous and who planned a certain number of things, including his trip to Corsica," Mr Sauterel said on Thursday.
Police in Corsica said they were searching various spots on the island where the family had vacationed before the parents split.
Swiss media carried a statement from Schepp's family saying he must have suffered a breakdown.
Ms Lucidi's family have said Schepp had a split personality, AFP news agency reported.