Tunisia rejects Italian call to send immigration police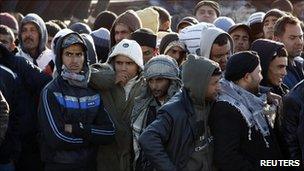 The Tunisian government has condemned calls from Rome to deploy Italian police in Tunisia to tackle a sudden wave of migration.
Spokesperson Tayeb Baccouche said Tunisians rejected the idea of foreign troops on their soil, but said the cabinet would debate the issue.
More than 4,000 migrants are reported to have arrived on the Italian island of Lampedusa in the past few days.
EU foreign policy chief Baroness Ashton is now in Tunis to discuss the issue.
Italy's Foreign Minister Franco Frattini is also expected in Tunis later on Monday.
He discussed the influx by phone with Lady Ashton and called for the EU border agency Frontex to get involved, to help patrol the waters off Lampedusa, Italy's La Repubblica newspaper reports.
On Saturday Italy declared a humanitarian emergency and called for EU assistance.
A spokeswoman for the International Organisation of Migration, Simona Moscarelli, said Italy must fly migrants from Lampedusa to the Italian mainland as soon as possible.
"It's quite a critical situation. That's why we are asking the government to organise as many trips, as many flights as possible," she told the BBC's World Today programme, by phone from Lampedusa.
Last month, Tunisia's long-time President, Zine al-Abidine Ben Ali, quit amid a popular uprising later dubbed the Jasmine Revolution.
The BBC's Chloe Arnold says that since then, there have been strikes and clashes on the streets, and many police officers have abandoned their posts, leaving what some describe as a state of lawlessness.
Italy's Interior Minister Roberto Maroni said on Sunday that Europe was not doing anything to help stop the flow of migrants and that he would request permission from Tunisia for Italian authorities to intervene.
Mr Baccouche described Mr Maroni's statement as "unacceptable", according to AFP news agency.
Asked how the authorities would respond to the migrant problem, Mr Baccouche told Reuters: "I cannot say, as this is a response for the security forces."
"We need to discuss this in the cabinet once we have been alerted by the Italian government because we have not yet been informed directly by the Italian government," said Mr Baccouche, who is also Tunisia's education minister.
Mr Baccouche said the problem of illegal migration was not new in Tunisia, but that it may have worsened due to a breakdown in law and order, which the government is struggling to restore.
Mr Maroni, who is a member of the anti-immigration Northern League party, has said the Tunisian system was "collapsing".
He accused other EU states of leaving Italy to deal with the situation alone, despite the impact it could have on other countries.
Italian officials said another 1,000 migrants arrived on Lampedusa on Sunday, bringing the total to more than 4,000. Most of the migrants are from Tunisia.
The small Sicilian island, which normally has a population of about 5,000 people, is closer to North Africa than the Italian mainland.
The migrants have arrived in small and overcrowded boats - Tunisia's official Tap news agency says one man died and another is missing after one boat sank while still in Tunisian waters.
Related Internet Links
The BBC is not responsible for the content of external sites.