Second Irish election debate due to be held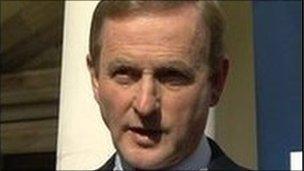 The second televised general election debate will be held in the Irish Republic on Monday night.
The leaders of Fianna Fail, Fine Gael, the Labour Party, the Green Party and Sinn Fein are taking part.
The debate will be broadcast live on RTE as part of The Frontline programme.
Fine Gael leader Enda Kenny, who is widely tipped to be the next prime minister did not take part in the first leaders debate last week. Mr Kenny said it was due to "scheduling".
Mr Kenny is due to meet German Chancellor Angela Merkel on Monday in Berlin to brief her on the economic situation in Ireland.
The other main party leaders will be preparing for the five-way debate and attending policy launches.
Fianna Fail leader Micheal Martin gave details of his party's innovation plans at a web summit.
Meanwhile, the potential coalition partners continued to trade blows over their economic plans.
Labour Party leader Eamon Gilmore again pointed to what he said was a 5bn euro gap in Fine Gael sums, while Fine Gael's Michael Noonan insisted the Labour platform was built on unattainable growth projections.
Related Internet Links
The BBC is not responsible for the content of external sites.