Anglo Irish Bank appoints receivers to Derry firm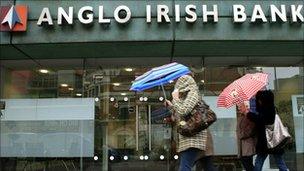 Receivers have been appointed to a County Londonderry property firm, McWilliams Homes, which has debts of almost £25m.
Anglo Irish Bank has appointed receivers from Price Waterhouse Coopers (PWC).
They have taken control of properties belonging to developer Sean McWilliams.
This includes land in Muff where his company was to build a housing estate, properties in Ballymacool, Newtoncunningham and Portstewart.
The failed Anglo Irish Bank lent hundreds of millions of pounds to NI developers. Many of them are now unable to repay their loans
Due the cross-border nature of McWilliams homes, Anglo Irish employed the services of PWC in Belfast and Dublin to protect the 2008 mortgage it had agreed with the company.
In June 2008 McWilliams homes had bank debts of £24m. The value of its land had fallen by £10m in the same year.
The company also wrote off £1.5m related to a London based subsidiary that was involved in renting aircraft.
Despite making profit of just over £4m from selling assets, the company reported a pre-tax loss of over £6m for 2008.
According to 2010 company accounts it sold 46 houses in the 2007/2008 financial year compared to 65 in the previous year.
In 2005 the situation was very different. McWilliams homes secured approval for a £90m residential development comprising over 550 houses close to the centre of Letterkenny in Ballymacool.
This followed three different applications on the 100-acre site and five years in planning.
The Irish planning board gave the green light to house builder and developer Mr McWilliams, who had already built several new homes in nearby Muff and Newtowncunningham.
McWilliams Homes Ltd bought the land and former farm in 2000, it included Ballymacool House, a protected site with 20 acres set aside for use as a park.
Plans for the development included commercial units, a creche, health centre and upgrading of the Glenties to Letterkenny road.