Nazi 'most wanted' Sandor Kepiro accused of massacre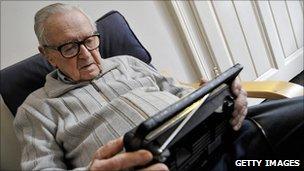 Hungarian prosecutors have charged former police captain Sandor Kepiro with a notorious 1942 massacre in the Serbian city of Novi Sad.
More than 1,200 Jewish, Serb and Roma civilians were murdered over three days by Hungarian forces.
Mr Kepiro is top of a list of most wanted Nazis compiled by the Simon Wiesenthal Center.
He said he was "nowhere near the executions" and was "the only one who objected to the orders".
Hundreds of families were rounded up by the Hungarians, allies of Germany, in January 1942 on the banks of the Danube River in Novi Sad and then shot.
A survivor of the killings, Lea Ljubibratic, said people were "thrown into the river under the ice. They would take people from their houses and shoot them in the street."
Sandor Kepiro was convicted of involvement in the killings in Hungary in 1944 but was released by the fascist government and later fled to Argentina.
He returned to Hungary in 1996 and was tracked down by the Simon Wiesenthal Center a decade later to a flat opposite a synagogue in Budapest.
Related Internet Links
The BBC is not responsible for the content of external sites.