Dutch MP Geert Wilders 'can challenge' Islam hate trial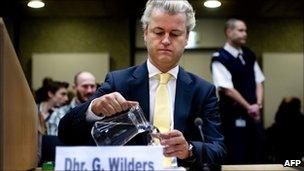 Dutch anti-Islam MP Geert Wilders has been granted the right to challenge the charges against him of inciting hatred.
The ruling was made by a new panel of judges appointed after the initial trial collapsed in October when Mr Wilders complained of bias against him.
Mr Wilders' lawyer will now be given a chance to set out the objections he made at the start of the initial trial.
One of the judges told the court on Monday that if the objections were successful, "the case will be closed".
Mr Wilders, whose Freedom Party came third in June 2010 elections, now plays an important part in propping up the Dutch government without being in the ruling coalition.
The charges against him of inciting hatred and discrimination against Muslims, Moroccans and other groups date back to remarks he made in 2006 and 2008.
He called Islam "fascist" and compared the Koran to Hitler's book Mein Kampf.
The prosecution told his initial trial last year that the comments were not criminal.
But the case eventually fell apart when a separate panel decided that the judges' decision not to allow further expert testimony from a Dutch academic gave the impression of bias against Mr Wilders.
In his opening address last year, lawyer Bram Moszkowicz argued the case against the right-wing politician was motivated by his political adversaries.
No date has yet been set for the start of the second trial. But if it does go ahead, the judges have said that Mr Moszkowicz will be allowed to call for evidence from experts on Islam on Mr Wilders' claim that it is a violent religion.