German trucker Detlef S incest trial opens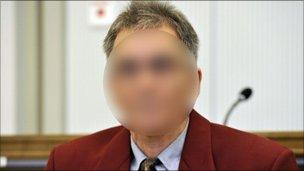 A German trucker has admitted fathering seven children with his stepdaughter in a major sexual abuse case.
Prosecutors accuse the 48-year-old, named as Detlef S, of abusing the stepdaughter along with his daughter and stepson for more than 20 years.
The authorities believe he first abused them when they were four years old, and say he forced both girls to work as prostitutes.
He faces 350 charges, and a verdict is expected by 25 February.
The trucker's lawyers say he is unlikely to speak at the trial in Koblenz in western Germany, but his defence team may read out a statement on his behalf.
Prosecutors say his wife will appear at the trial as a witness.
Local media have likened the case to that of Austrian Josef Fritzl, who enslaved his daughter for 24 years in a case that shocked the world.
One of Detlef S's lawyers read a statement at the start of the hearing in which his client admitted being the father of his stepdaughter's seven children.
"He acknowledged paternity... but paternity is not part of the indictment," Thomas Dueber later told reporters.
The defendant's stepson attended part of the hearing in the morning and told reporters that social workers had failed to spot signs of abuse.
The stepdaughter gave evidence during the afternoon at which point the public was asked to leave the court.